// REINVIGORATING A DIGITAL PRESENCE & ENGAGING VIPs
CLIENT: Chipmunks Playland & Cafe

CAMPAIGN DEVELOPMENT | CUSTOM ANIMATION | DIGITAL ADVERTISING
Having been a part of the childhood play experiences of Australian children for 20 years, Chipmunks Playland & Cafe features exciting play structures designed with both physical and intellectual play in mind. Understanding the desires of today's parents when they shop around in the competitive childcare and play market, Chipmunks has a strong focus on encouraging movement and imagination, keeping kids aged 0-11 healthy and active while they learn through play.
Looking to reinvigorate their digital presence and communicate their market difference, Chipmunks sought a results driven campaign that would engage existing and prospective customers alike, whilst simultaneously empowering franchisees to be a greater part of the proactive engagement of their customers.
Challenge
With a 20+ year brand history comes great responsibility and emerging competition. Even though franchisees were individually doing a great job at retaining their customers, it was crucial to reinforce the brand positioning in the WA community. As such, there was a growing desire for a focused reinforcement of the brand.
A fresh perspective was needed to ensure that Chipmunks was staying competitive and offering new customers something enticing.
Offers and promotions were run fairly consistently… and whilst these offers were initially high performing, the need to provide customers with something new (particularly for families with multiple children where, as children grow, their needs and desires in a play centre change) was increasingly clear.
To achieve an uplift in sales and a fresh campaign approach, Chipmunks needed to elaborate on their existing brand elements and breathe a sense of life and contemporary appeal into the brand – all without too drastically deferring from the national style guide and providing a sense of continuity.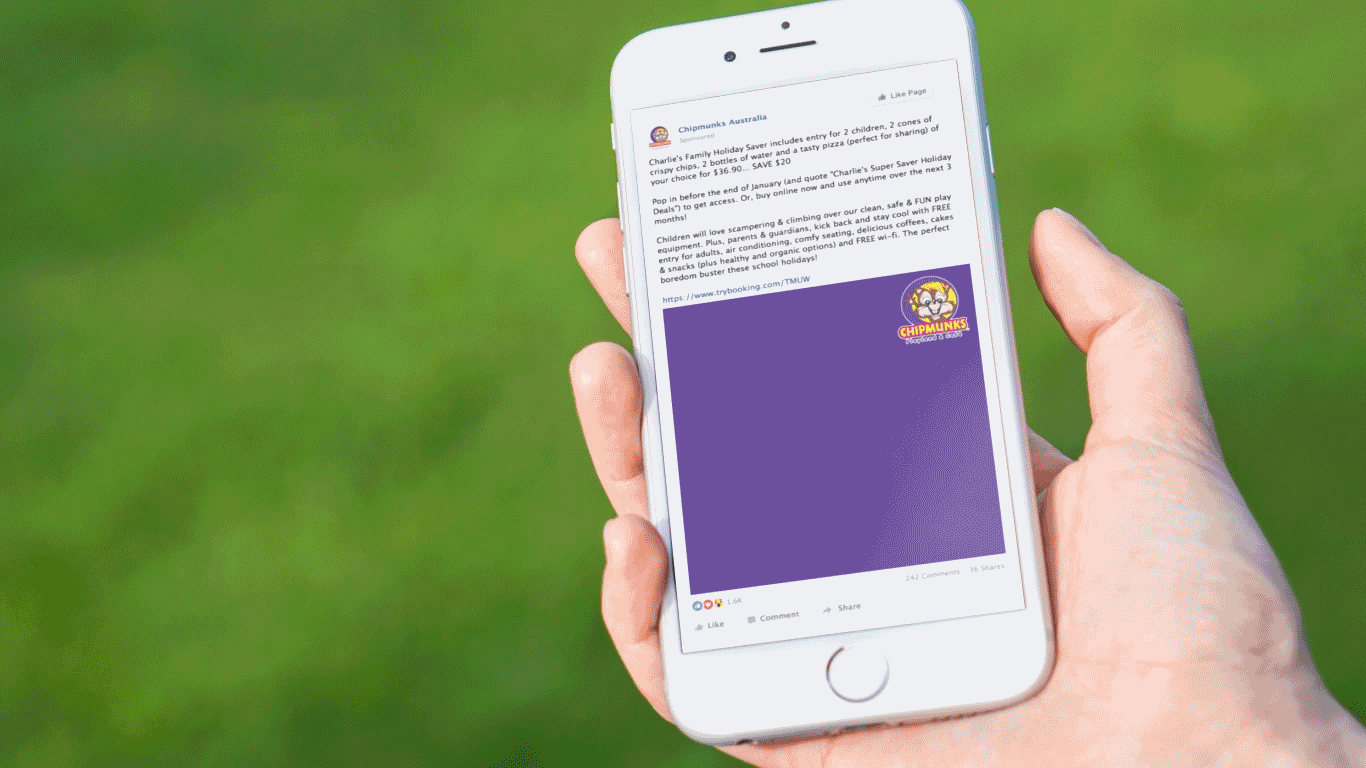 Approach
Through careful and ongoing consultation to ensure consistent buy-in over the duration of the 3 month campaign, a discovery process unfolded that allowed Chipmunks to see where the opportunity was for increased results in the digital space.
After understanding the scope of the requirements, Noop rapidly conceptualised a fresh and innovative short term campaign utilising custom illustration, animation, video and social advertising designed to:
Uplift entry sales alongside upsells inside the centre;
Re-engage the under-utilised database of 'VIP' customers and encourage them to become brand champions;
Create digital engagement and sustain it (where organic engagement – as a result of algorithmic changes and outbidding in PPC competitor ads – had dropped significantly and wasn't allowing the franchisees to connect with their existing captive audience);
In-build further continuity to the brand whilst still giving scope for franchisees to have slight variance (as each Chipmunks franchisee is also a competitor or other Chipmunks franchisees); and
Expand on the brand story (including better utilising Chipmunks mascot, 'Charlie the Chipmunk' to connect with children).
Clear and effective reporting was a strong consideration. In addition to the detailed milestone/results updates that come standard, Noop provided a unique, custom online dashboard was provided to each franchisee aggregated the granular results of the entire campaign at each location level. A central source of truth for campaign performance provided transparency, giving Chipmunks a clear benchmark of the current state, accurate measurement and insights of all improvement results and importantly, easy comparison of marketing spend vs. return across WA.
Results
By creating catchy, memorable and engaging campaign threads that integrated Charlie the Chipmunk under a focus that appealed to parents and children alike (through utilising children's 'pester power' to bring existing parents back into the fold of frequent customers), the 3 month campaign achieved an 85% customer retention rate of campaign messaging and an average of 350% online engagement rate.
In tandem, the campaign also achieved an average audience relevance score of 8.5/10 and a re-engagement of VIP members through a three tiered approach of social advertising, email marketing and SMS marketing.
Alongside digital results, the campaign achieved an uplift in sales and VIP membership sign ups, unified the brand and regained the excitement of consumers who were seeking fresh, new offerings.
The campaign also helped franchisees to proactively identify new opportunities to segregate and tailor offers for the unique needs of children's age groups and franchise location demographics.